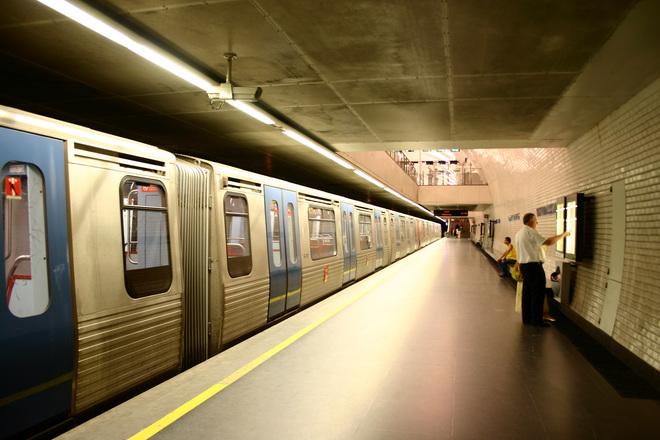 City Bus and Subway
The main public transportation systems in the city are buses and subways. A flat rate of \210 for adults and \100 for each child is charged for the City bus. The subway system charges \200–\330 for adults and \100–\160 for each child, depending on the distance traveled. Put the fare into the fare box at the front of the bus when you ride on a City bus, or, on the Key Route No. 2 bus, when you get off. Subway tickets can be purchased from vending machines and passed through the automatic ticket gates. The ticket should then be passed through the gate again at the station where you get off.
Manaca IC Cards, 1 Day Tickets, and Weekend Eco Passes (Donichi Eco Kippu) can all be a good value. Commuter pass functionality for everyday use between specified stations/bus stops can also be added to Manaca IC Cards.
When using Manaca on a City bus, touch the card to the fare box on the bus as you enter (or as you get off of Key Route Bus No. 2). For subways, touch the card to the automatic ticket gate at both the departure and destination stations.
Aonami Line
The Aonami Line runs between Nagoya Station and Kinjo-futo Station, completing the approximately 15.2km journey in roughly 24 minutes. Fares for adults range between \200 (Zone 1)–\350 (Zone 6) and children ranging from \100 (Zone 1) to \180 (Zone6).
Manaca and other IC cards such as Toica can be used on the Aonami Line.
Yutorito Line
The Yutorito Line runs from Ozone station passing through Obata Green to Nakashidami/Kozoji. Tickets are 200 to 440 yen for adults and children are half price. It incorporates a guideway bus system, offering passengers the benefits of both railways and busses.
In the heavily congested city-center, Yutorito Line busses operate on an exclusive, elevated track where they are guided along by steering devices installed on front and back wheels. In other areas, the same vehicle continues traveling along public roads as a bus.
Enter the bus from the central door and take a boarding ticket. When getting off the bus, pay your fare and exit via the front door. If you choose to pay with a Manaca or Toica IC card, touch it to the card reader when boarding the bus, and when disembarking, touch it to the card reader again located next to the bus driver's seat.
Linimo
Linimo joins about 8.9 km traveling from Fujigaoka station passing through the Aichikyuhaku Kinen Koen Station to Yagusa station. Fares range from 170 to 370 yen and children are half price.
Linimo is Japan's first magnetically levitated linear motor car and is renowned for providing users with a comfortable ride with minimal noise and vibrations. Please purchase your ticket from a vending machine, pass it through the automatic ticket gates before boarding and pass it through again at the station where you disembark from the train. Manaca and other IC cards such as Toica can be used.
Traffic Rules
In Japan, cars, motorcycles, and bicycles travel on the left side, and pedestrians walk on the right. We can all live more safely by carefully following Japan's traffic rules.

You must yield to pedestrians in crosswalks.

You must wear a seat belt any time you ride in a car.

If you are driving with a child under six years old, they must use a child safety seat.

You must wear a helmet any time you ride a motorcycle.\Children under 13 years old should have an adult fasten a helmet on them when riding a bicycle.

Driving or riding while using a cellular phone or after drinking alcohol are strictly forbidden.

Drunk driving is punishable by the fullest extent of the law and is extremely dangerous. Please do not drink and drive.

You are encouraged to buy automobile and bike insurance just in case of an accident.

Riding two to a bicycle, riding side by side, and riding while using an umbrella are strictly forbidden.